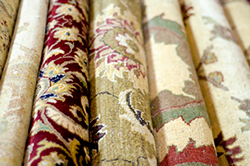 Carpet is, in fact, the most popular floor covering in apartments, homes, and even office rooms. It is relatively cheap and at the same time is not difficult to install. It's easy to care for too. Eventually, just run a vacuum cleaner all over it and it will look good in no time. However, like all things on the planet, carpets become damaged or requires repair. Therefore, this necessitates a visit from Auckland Carpet Cleaning Carpet Repair Professionals.
Carpet is essentially a covering intended for the floor. Stretched over a sub floor and secured at an areas edge with the additional use of tack strips. Rooms with dimensions over 12 feet usually need a seam to connect two pieces of carpet. Majority of carpet flooring has a pad beneath to soften the texture. In a few installations, to safeguard the carpet backing from dampness.
Fabric Use in Carpets
Fabrics used in carpets such as acrylic, nylon, olefin, polyester, polypropylene, wool or a blend of two or more materials. Additionally, most carpet materials are treated with a stain fighter to lessen the absorption of staining fluids.
Since carpets are often stepped on, they are subject to food spills. As well as pet destruction and perhaps burn. Furthermore, It seems in between carpet pieces can separate in the long run and necessitate repair.
The very essential thing you are able to do to prolong the life of your carpet is to regularly vacuum it.
Or call us, the carpet repair professionals. Surely we're here to help you.
Auckland Carpet Cleaning 09-489 5599
North Shore 09-489 5599
West Auckland 09-836 0990
East Auckland 09-535 1055
South Auckland 09-262 1800