Purposeful Carpet Mats
Nearly every home or building has some type of carpeting in it. Carpeting is both practical for keeping floors warm and plush and it is also part of the home decor. Carpet mats give a touch of decor and provide functionality in a variety of locations.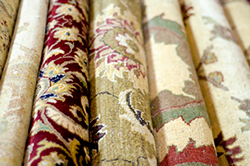 Just as there are different styles of carpets there are also different styles of mats. The type of mat you choose is determined by the type of functionality you are looking for or whether you are looking for a decor statement. Expensive mats have a wonderful pattern or design and are available in a variety of thicknesses and textures. They are the best choice as a room accent providing a splash of color or elegance. Most commonly they will have a heavy rubber back to ensure they do not slip.
Sponge Carpet Mats
Sponge mats are very effective at entrances either on the exterior or just inside the door. They have the ability to absorb large amounts of water and the raised rubber edge helps trap water and dirt. They are available in many different colors, patterns, and styles. In fact, there are some terrific slogan mats available. These stay put style mats are excellent for entrance ways or bathrooms. They grip to existing carpet with their molded rubber back so slippage is not an issue. Created from 100% nylon they are more resistant to compression and they are generally easily cleaned as they are machine washable.
The twist fiber mats are incredibly beautiful with their luxurious surface. But don't let that fool you as they have excellent absorption and sturdiness and resist matting down. This style of mat is an outstanding choice in case you are looking for decor and functionality in one.
The brush and clean mats are ideal for lobby areas or any commercial environment that has high traffic volume. They look good while absorbing debris and water so they won't track it into the building. Brush and clean mats are also available with heavier rubber backing and rounded corners depending on what your preferences are. Sizes vary and you will have no problem finding the correct mat for your entrance.
PVC Carpet Mats
Another resilient mat is the PVC style mat with a heavy duty PVC edging and heavy rubber backing it is an excellent choice for heavy traffic areas. It is available in many different styles and designs to accommodate most any environment. The loop mats are great for almost any indoor environment. They'll deal with heavy traffic and clean up quickly and easily. They are available in a wide variety of complementary patterns and colors to accent most any room. However, these are not intended for water absorption so are not recommended for areas where water may be a problem.
Olefin mats are very economical and stylish. They are great for both indoor use and are ideal for an entrance as they dry quickly and are also easy to clean. Olefin is just about the most versatile and affordable carpet materials available.
You can buy carpet mats in a variety of sizes from longer runner styles to door size. There is a terrific selection available to accommodate nearly every situation. What an easy way to add style to any space yet still providing the functionality of trapping moisture and dirt and saving on the damage of your carpet or flooring.
Functional carpet mats whether used both indoors or outdoors, give you a warm and stylish addition to your rooms and areas.
Auckland Carpet Cleaning 09-489 5599
North Shore 09-489 5599
West Auckland 09-836 0990
East Auckland 09-535 1055
South Auckland 09-262 1800