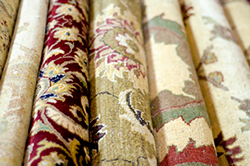 Carpet provides warmth, softness, and comfort in floor covering. Breakthroughs in carpet manufacturing have also resulted in a larger variety of carpet styles. As well as patterns, carpet types, and fibers. In fact, carpet manufacturers all over the world work towards supplying consumers with the best possible selections.
Georgia is the world's carpet manufacturing capital. It is also the place to find the two largest carpet manufacturers on the planet. Mohawk Carpets and Shaw Carpets offer a vast variety and selection of innovative carpeting. Indeed the breakthroughs in the fiber industry have made today's carpets more durable, versatile and stain resistant. Carpets such as Berber, cut pile, or patterned are becoming progressively famous.
Today there are plenty of choices in selecting carpets can be a bit mind-boggling. Whether you are trying to find formal carpeting or casual carpeting. There is quite a lot of options.
Nylon
Nylon is considered one of the most well-known synthetic fiber used in carpets. Certainly for its affordability, easy care maintenance, and heavy duty. It has the capability to repel dirt and this new generation of carpet fiber is less of a challenge to clean.
Mohawk Carpet
This has released a new revolutionary fiber named Smart Strand with DuPont. Engineered with stain protection that cannot be washed or worn out too.
Soft Carpet Fibers
For instance, Honeywell's Anso Caress, Invista's Stainmaster Tactesse, BCF fibers, or Wear Dated Durasoft, is a nylon filament fiber. For instance which is certainly finer when compared to a strand of hair. With twice as much fiber in a strand of yarn. Making these carpets soft, strong, and inexpensive.
Olefin
Olefin is in Berber carpets and level loop carpets. It is quite resistant to stains, mold, and mildew. Acrylic is usually used in level loop carpets and polyester in soft plush carpets.  On the other hand, it is not too durable. Wool is pricey but it is sophisticated and lasts forever.
There are also various kinds of carpet construction. There are two primary pile types: loop pile and cut pile. Most carpets are tufted, a process completed on huge sewing machines. The length of time the carpet will retain its brand new look depends considerably on the kind of fiber. In addition, the density of the pile and just how tight the yarn is twisted. Each carpet manufacturer possesses its own line of carpets it produces.
The Major Carpet Manufacturers and Carpet Mills include:
Aladdin Carpet
A division in the Mohawk Family of brands has a strong good name for its Berber Loop styles. Specifically the dedication to value and function.
Coronet Carpet
Popular for its decorative carpet lines in a fantastic mix of colors and designs. Truly attractive to those searching for that finishing touch.
Dupont Stain Master Carpet
Has become the number 1 carpet brand due to its exceptional stain resistant features. Great pricing and its comprehensive warranty.
Karastan Carpet
Popular for classy and sophisticated styles and designs. This top quality manufacturer caters to the boardroom and higher end market featuring its premier woven carpets.
Masland Carpet
Recognized for both its quality and value. Their broadloom carpets are spectacular and fashionable and indeed a masterpiece of design. Masland caters to their very own collection and also custom designs.
Milliken Carpet
Created towards the economic requirements of the modern world. Uniting form and function in its versatile carpets. Well known for being both a valued and quality product.
Mohawk Carpet
Mohawk is among the largest carpet manufacturers on the planet. Providing woven and tufted carpets for commercial and residential use. It is also a premium brand name.
Philadelphia Carpet
A seasoned division of Shaw carpet providing a broad collection of traditional carpets for today's lifestyle.
Shaw Carpet
In business ever since 1932. Shaw is among one of the largest carpet manufacturers in the world. It provides a wide selection of carpet styles but the Cabin Crafts line is probably the most widely distributed.
Tuftex Carpet
This is a business leader in color trends and designs that set this carpet apart from its competition. It also features a number of the top value and quality around.
Auckland Carpet Cleaning on 09-489 5599
North Shore on 09-489 5599
West Auckland on 09-836 0990
East Auckland on 09-535 1055
South Auckland on 09-262 1800