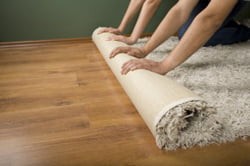 When arranging your carpet installation, it's important to ask for a fully-itemized quote. Most quotes from retailers will include underlay and carpet installation. But not all will include the moving of furniture.
Have your carpet laid by the company that you bought it from, as this will usually be cheaper and it keeps things simpler. Ask your retailer for a carpet installation plan and check for the placement of cross-joins and seams in the carpet. If possible, the joins should be away from windows where falling light could show them. They also shouldn't be in high-traffic walkways such as corridors and doorways.
To prepare a room for new carpet, vacuum the old one to minimize the spread of airborne dust particles when taken up. Once old carpet and underlay have been removed, re-vacuum the floor.
Carpet Installation Process
Inspect the carpet as it is unrolled and ensure installers stretch it to properly minimize wrinkles and ripples. It's normal for the carpet to shed in the first few weeks or months of use and you may see small fibers collect on its surface. As the carpet beds down this should stop.
Vacuum the new carpet to get rid of any loose fibers.
It can be worth buying extra carpet and/or keeping off cuts in case you need to replace worn carpet in high-traffic areas, such as stairs, in the future.
New Carpets and Air Pollutants
In fact, for the first few days after installation, all new carpets omit volatile organic compounds (VOCs), air pollutants associated with manufacture. These omissions are generally at a very low level and scientific evidence indicates they are probably not harmful to most.
After the installation opens the windows and doors or use fans and air conditioners for several days. This will also get rid of the new-carpet smell.